Roadmap for a B Corp Summer
As summer gets underway, the time for vacationing, relaxing, and spending quality time with your family is near. In honor of the season, we've come up with a way to satisfy any summer appetite you may have with 6 ways to incorporate B Corps into your summer.
Beach
When you're relaxing on the beach, drinking Mai Tai's, there's one thing you need to make sure that you have the best day at the beach ever: sun protection.
The first thing you should do after laying down your beach towel is grab your sunscreen lotion. You could support one of your very own B Corps by using a cruelty free, organic sun screen lotion by W. S. Badger. W. S. Badger's goal is to create lotions and balms which are made as simple and pure as possible. If you want to know what you are putting on your skin, then you should check them out.
So you have your sunscreen (√) next all you need is a beautiful sun hat.
Wallaroo Hat Company
protects the face from the harmful U.V rays of the sun. This company prides itself on creating hats that protect the skin, but also on being advocates in the fight to prevent skin cancer. Wallaroo Hat Company plays a big role in the Skin Cancer Foundation, while also donating 1 percent of their proceeds to different organizations that take part in researching the cause. If you decide to buy a stylish sun hat to protect yourself, why not get one that also helps protect others?
Travelling
If you are more of a traveler, sightseer, or just someone looking for a family vacation, these three B Corps have fun in the sun down to the 'T'.
With Deep Ecology you can find family-oriented, solo, or couple-friendly activities for all water lovers. Deep Ecology is a Dive Center that is located in beautiful Haleiwa, Hawaii with a mission to preserve marine life. They have done so by teaming up with their local community to help create a sanctuary for marine life. So far they have rescued over 50 green sea turtles, and collected over 5 ton of debris from the sea. Deep Ecology is a fun way for animal lovers to experience the life of a deep diver. This awesome B Corp will teach you or your family how to dive like a professional—not to mention, the water is an awesome way to cool down in the summer heat.
If deep diving is not what you are looking for, there's also
Channel Islands Outfitters
. Channel Islands Outfitters is a paddling sports center located in Santa Barbara, California that is dedicated to bringing awareness to keeping the ocean clean. A big part of their effort in keeping the ocean clean is their store; which they use to sell ocean friendly items. Channel Island would be a "water-terrific" opportunity for the family to experience bonding, and a little family competition.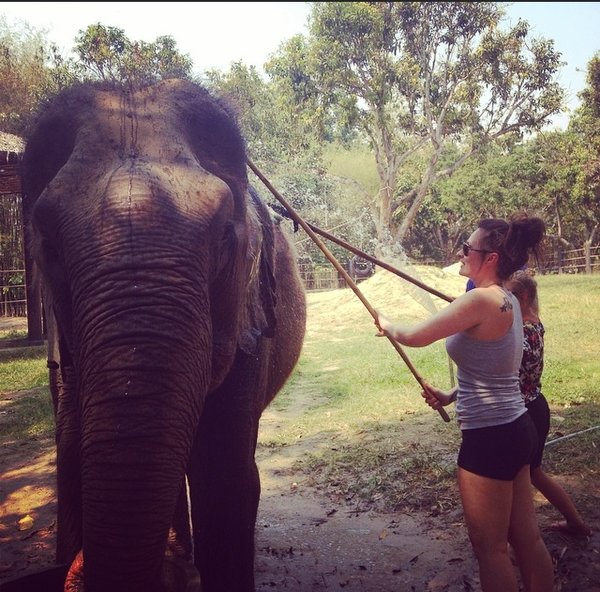 Another fun travel experience is Animal Experience International. Animal Experience International is an organization created by veterinarians that matches up volunteers with animal shelters, animal hospitals and clinics. Their mission is to make sure that they create a lasting impact around the world for animal communities. If you love to volunteer and you're open to new experiences, then this is one B Corp travel experience that you should not miss. Who wouldn't love to travel around the world to help take care of animals?
Outdoors
Like the great outdoors? Patagonia was created based on the founder's love for the great outdoors; whether it be rock climbing, skiing, hiking, snowboarding or trail running. This company has tasked itself with helping to slow the environmental destruction that has been going on for quite some time. Through Patagonia Traceable Down Program they have been able to provide their customers with warm clothing, while still being able to preserve the welfare of animal life in the process, and using fair trade certified products. Patagonia mission is to help beautify the world, through providing eco-friendly gear.
By shopping at Patagonia, not only do you help bring the world closer to its natural beauty, but you also give yourself and your family quality time as you hike, or trail run to your camp site.
After checking out Patagonia, your next stop should be MPOWERD. MPOWERD is a company that is helping the world one solar light at a time. Their solar-powered Luci Lights were designed to help those without access to electricity, but they're also great tools for campers who want to support a company that lights the way for many people all over the world.
Kids/ Teens
​The summer is a time when children are home from school, and they are ready to have fun and explore. With these B Corps your children will be ready to be out of the house, laughing and playing with their friends in no time.
Comet Skateboards uses environment-friendly supplies to build awesome, colorful skateboards. All of the products that are used to make Comet Skateboards are sourced locally, in order to give economic help to the community. The materials are also environmentally friendly, and can help the earth to flourish and grow along with your kids.
Another kid-friendly B Corp product to get children outside and playing is One World Play Project's soccer balls. This B Corp has designed ultra durable soccer balls that can withstand any environment, including cars too! Not to mention they will match every single One World Play Project soccer ball that is bought, and then give it to children in communities that are in need. So, while your son or daughter are fooling around and having fun playing soccer, you won't have to worry about deflated soccer balls, or popping them if you run it over.
For a more in-depth experience, Galileo Learning can make a child's education year-round. Galileo Learning is a B Corp summer camp that is located in California. This camp is for children between the grades of Pre-K to 8th grade. This summer camp is an awesome way to get children out of the house, having fun, and meeting lots of other children their age, while in a controlled setting that allows them to be creative thinkers and innovators. Galileo Learning is an awesome opportunity in order for parents to enroll their children into a program that is solely based on inspiring children to make the world a better place through knowledge.
Exercising
The summer time is not only a time for fun. It is a time for keeping your body, and mind as one—but these B Corps can help make that fun, too.
YogaLife Institute Inc. is a B Corp that is located all the way in Pennsylvania. YogaLife believes in teaching a philosophical message through the body, love, knowledge and movement. Doing yoga is a fun way to keep you calm and relaxed all throughout the summer and a way for you to become centered and one with the universe. The good thing about yoga is that you can do it anywhere. So no matter where you are, yoga is an awesome way to try out new exercises and to find your inner peace.
If yoga's not the exercise that you need, there's nothing wrong with a good run. The summer time is one of the best times to let go of any stress, anger or complications by running it off. If you do decide to make running a habit this summer, try out Newton Running who specializes in running shoes. When Newton Running employees aren't busy making sneakers, they are running themselves at events in their hometown of Boulder, Co. Whether you are home or on vacation, a pair of sneakers means you can get your exercise anywhere.
Relaxation
Would you rather just spend your summer relaxing at home? Don't worry—B Corps can help with that too.
Yellow Leaf Hammocks was created in order to help the Mlabri Tribe fight deforestation and social inequality. Through Yellow Leaf Hammocks, the Mlabri Tribe has been able to sell their strong durable hammocks, which helps the tribe to earn money to sustain not only their economy, but their heritage as well. Knowing your money went to a good cause makes this hammock twice as relaxing.
While curled up in a lovely hammock by Yellow Leaf Hammocks, you should enjoy a book from Better World Books. Better World Books is a business that believes in empowering people in their everyday lives through reading whether it is for personal or the business world. So far, they've re-used or recycled over 216 million pounds of books and raised over $18 million for global literacy and local libraries. If you are just looking to unwind and to get cozy with a nice book, then order one of your favorites from Better World Books.
What B Corps are you planning on spending your summer with? Let us know in the comments or on Twitter!